■

What is the Topical Dictionary of Conversational Ainu?

Recently, minority languages have been facing extinction on a global scale. According to a UNESCO publication from 2009, there are eight languages in Japan that are critically endangered, and the Ainu language tops the list with the highest degree of endangerment.

The genetic affiliation of Ainu is unknown; at present it is classified as a language isolate. Ever since the Ainu were recognized as an indigenous people in 2008, much attention has been paid to the revival of the Ainu language and culture. The necessity for education and research for this revival has also been a focus.

Most resources on the Ainu language are folklore, and unfortunately, there are few materials that can be used to study Ainu for ordinary conversation. In 2010, Bugaeva (et al) released the "A Talking Dictionary of Ainu: A New Version of Kanazawa's Ainu Conversational dictionary" (http://lah.soas.ac.uk/projects/ainu/) on the University of London's website.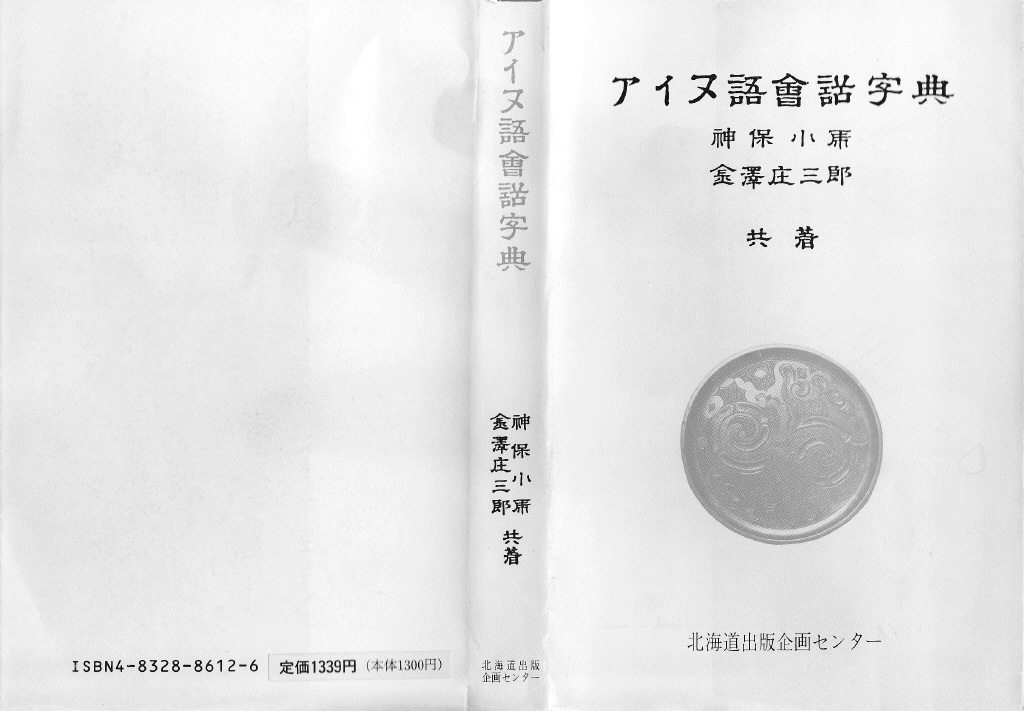 These contents are based on the original Ainugo kaiwa jiten (Ainu conversational dictionary) by Kotora Jinbo and Shōzaburō Kanazawa, first published in 1898 (reproduced in 1973, and republished in 1986 by Hokkaido Kikaku Center). In addition to the original notations, various information that can aid learning the Ainu language including the colloquial translation, Modernized Roman character transcriptions and katakana transcriptions of the Ainu word, interpretation (glossary) and English translation, etc., are provided. With the help of Setsu Kurokawa, a native speaker of the Saru Dialect of Ainu (Nukibetsu), we were able to upload audio of the Ainu language onto the web. We received many responses and comments from students and researchers regarding these contents. However, we were faced with budgetary restrictions when building the dictionary, and some technical problems remained.
With the cooperation of the Lago Institute of Language (Director: Shirō Akasegawa), we have added a topic search (Japanese/English) and headword (Ainu, Japanese, English) search function to the above contents. We have also added photos of animals, plants, and tools (72 headwords, 86 photos) in this new version of the dictionary.
The original dictionary by Kotora Jinbo and Shōzaburō Kanazawa contained mistakes, misheard words, and even broken phrases (expressions that are inconceivable with original Ainu grammar). We deleted all questionable words and examples, items that were extremely different from Setsu Kurokawa's audio, and words that Setsu Kurokawa was unfamiliar with. Double entries were basically consolidated to one entry. However, since the video data and audio data were recorded separately, there are cases where the Ainu expression is different in the video and audio. In those cases only, we decided that these were separate expressions, and listed both. In the end, we had 3467 headwords. For particularly rare words, we checked whether they were used in existing dictionaries, and added notes to them.
These changes were made so that students of Ainu could use these contents as learning materials. One must remember that Ms. Kurokawa used Japanese in her daily life for a long time, so her recordings are greatly affected by Japanese.
This online dictionary was created as part of the "Typological and Historical/Comparative Research on the languages of the Japanese Archipelago and its Environs" (project leader: John Whitman) and "Documentation and Transmission of Endangered Languages and Dialects in Japan" (project leader: Nobuko Kibe), NINJAL Collaborative Research Projects. Anna Bugaeva (NINJAL, associate professor) and Shiho Endō (Chiba University, PhD student; project collaborator) prepared the basic data from a linguistic perspective, and Lago Institute of Language (Shirō Akasegawa) built the online system.
We hope that students throughout the world will enjoy this journey through the Ainu language.